The Oregon Trail
once when I was a little girl with my father. We made it to Oregon, but the stress was too great for my six-year-old body and mind and I never touched the game again. It was an updated version of the game, and now that I look back on it, it lacked the charm of the original Apple II version by MECC. (MECC is also responsible for making
Storybook Weaver Deluxe
, my favorite computer program of all time.)
You see, in the original version, the graphics were somewhat spotty, the music was 8-bit, and you could even pass your classmates' tombstones on the side of the road, for which they had written their own epitaphs:
A good Sox fan can tell you that Jacoby Ellsbury is from Madras, Oregon. A prospect stalker can also tell you that Jed Lowrie is from Salem. These two facts led me to send the two of them out on a quest to arrive in new lands - lands they, well, already live in. Justin and Clay are just along for the ride.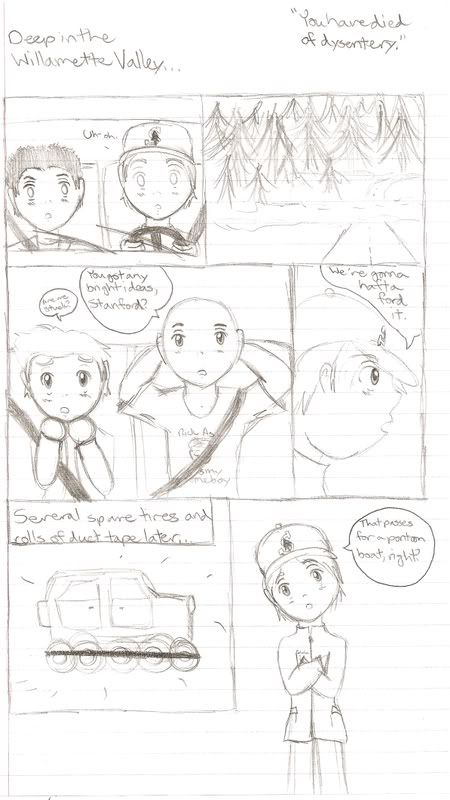 That was just a short thing that I had to get down before I lost it. I swear I'm working on the Rick Rolling one - I actually did work on it today - but I couldn't resist this...
EDIT:
Here's the newest meme going around:
Pick 10 [or 12] people and give them the "you make my day" award. If you're picked, you are charged with picking 10 [or 12] of your own (please don't feel the need to add me to your list if you do it). There's no need to explain your choices or rank them.
I set out to do it myself, and it just so happens that
I have exactly twelve people
(and
one fictional college
and two communities) on my Friends' List. What are the odds of that? I'm not going to force any of you to do it, especially since most of you have done it already, but consider yourselves quasi-tagged. I seriously miss you people if I have to be away from a computer for an extended period of time.
I also had to post this, because it made me act all happy and pathetic:
Which Double-A or Triple-A prospects have the greatest chance of making an impact later in the year like Jonathan Papelbon in '05 or Jacoby Ellsbury last year?
-- Josh D., New Bedford, Mass.

The two guys to keep an eye on this year are Justin Masterson and Jed Lowrie. Masterson, a second-round pick in the 2006 First-Year Player Draft, is a right-hander with a nasty sinker. He has made a swift rise through the farm system and is probably the next pitching prospect that will be heard from.

Lowrie is a gritty infielder who can flat-out hit. His main position in the Minor Leagues has been shortstop, but this is a guy who can play all over the infield. Both of these players have carried themselves like pros throughout Spring Training. I wouldn't be surprised if either guy -- or both -- surfaced at Fenway Park at some point this year.
Ian Browne knows how to make me happy. I am already looking forward to Dress-Up Day this September.
I played
Current Location:

The other place where I live

Current Mood:

artistic

Current Music:

GSN - I've Got a Secret (Billy Beane is on this show! WTF?)